This is an archived article and the information in the article may be outdated. Please look at the time stamp on the story to see when it was last updated.
LAUDERDALE COUNTY, Ala. – Enhanced security measures are now in place at the Lauderdale County Courthouse. Law enforcement say the changes will better protect the public and employees.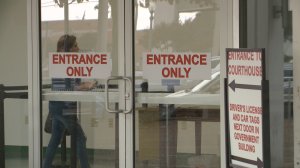 Walk up to the courthouse and you will notice the first change. The main entrance is now exit only. Visitors will enter through new doors and straight into a security checkpoint.
Sheriff Rick Singleton knew when he came into office security needed a major upgrade.
"If we're going to do courthouse security, then we need to be serious about it. We need to take a look at what is lacking," said Singleton.
To help usher people through the checkpoint faster there are two walk through scanners and a new x-ray machine. Full time sheriff's deputies will man the post.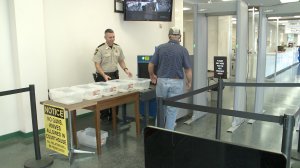 "This way if someone comes in and they are belligerent or something, then we have someone there who can take law enforcement action if its necessary," Singleton explained.
Sheriff Singleton says cameras have also been installed throughout the courthouse. They are monitored by deputies from a central location.
They are modifications which are to help protect the public from possible dangers.
"It's not to inconvenience anyone, but we want them to know when they come to the Lauderdale County Courthouse that hopefully they won't have to worry about something like that."
Sheriff Singleton said they will continue to evaluate security in the future, and make any changes as they need to.
Deputies manning the security checkpoint want to remind visitors, no weapons of any kind are allowed in the Lauderdale County Courthouse. That includes pocket knives, which is their biggest visitor issue.