This is an archived article and the information in the article may be outdated. Please look at the time stamp on the story to see when it was last updated.
KILLEN, Ala. – Killen Mayor Tim Tubbs says Police Bryan Hammond has been suspended without pay after a conversation Hammond had on social media. Hammond is spending 15 days without pay, and will return to his normal shift on December 6th.
This is a story we have been following since last week when our news partner AL.com reported on Hammond's reported posts. In the comments, Hammond said Doug Jones "fondled me on a boy scout camping trip" and also said "silence is consent."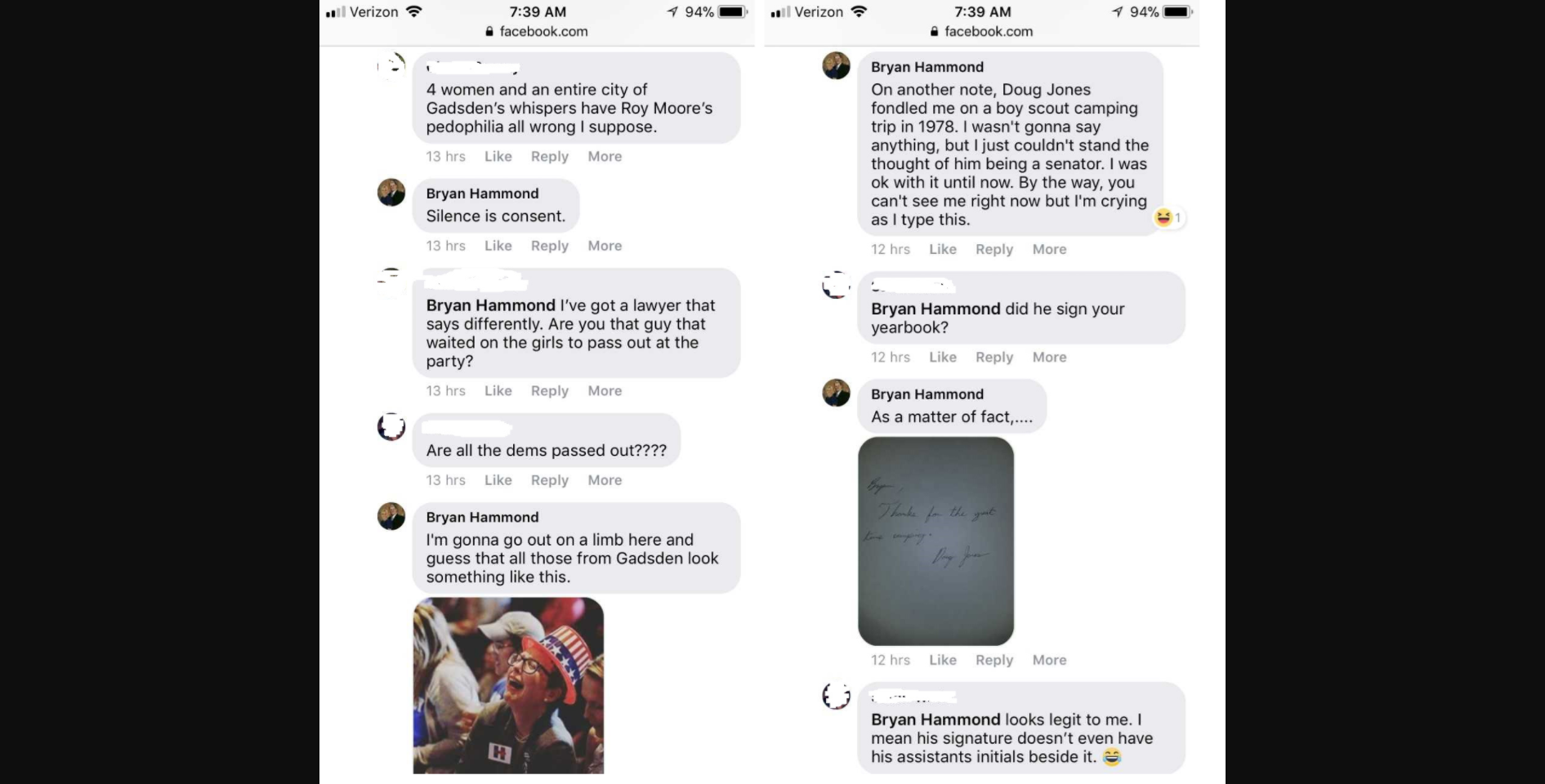 Chief Bryan Hammond released the following statement on the situation:
Last week a friend of mine shared a post on her private Facebook page that was political in nature.  I commented on her post in agreement, and we continued the conversation with a few others commenting on the same post.  During this conversation I used the term "silence is consent" in reference to people ignoring accusations from the opposing side.  One of the others misunderstood the intent of that phrase, so I clarified what my intent was immediately after.  After explaining that it was in reference to the shoe being on the other foot, I gave an example by producing a similar example using the other candidate in my example.  I joked back and forth with my friend over the comment and we discussed the joke later during a phone conversation.

The following day a reporter contacted me to ask about the post.  She advised that someone had taken a photo of the conversation and forwarded it to her.  I explained to her that the two comments she was asking about were only portions taken from the conversation.  I provided her with the other comments from the post which made it clear that the comments were intended as comedy.  I also explained that the example was in no way true and I had never even met the candidate.  Later that day the reporter decided to publish an article about the comments.

I am truly sorry for any of my comments that may have been offensive to anyone.  I never meant for the comments to be taken seriously, they were meant only as a joke with a friend.   I've learned from this experience to refrain from any discussion that could be offensive to anyone who might read it, even if the comment were not intended as a public post.  The day after the comments were made my friend discovered that someone saw it as something other than a joke as we both intended and she decided to delete the entire post.  Once again, I'm sorry for any comments I made that may have been offensive to anyone who read them.
WHNT News 19 is in contact with city leaders this morning. We'll update you as soon as we learn more on the situation.