This is an archived article and the information in the article may be outdated. Please look at the time stamp on the story to see when it was last updated.
LAWRENCE COUNTY, Ala. - A widow from Lawrence County has been in a living nightmare for three years, but a ruling handed down by a judge Tuesday is going to help her rest a little easier.
In 2015 Kimberly Clemons paid a contractor $21,000 to remodel her mobile home. He took the money, but the repairs were never completed.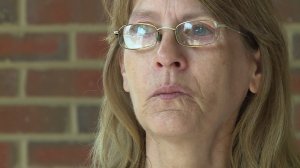 Earlier this year she filed charges and Tony Hill was found guilty of misdemeanor home repair fraud. Tuesday he was ordered to pay restitution.
A judge ordered Anthony Hill to pay $17,900  to the Clemons family and they say it feels like a huge weight has been lifted off their shoulders "I feel relieved as long as I get it from him...I feel relieved," Kimberly Clemons said.
Clemons hired Hill to remodel her mobile home in October 2015. She's legally blind and her husband had recently passed away. She says Hill later told her there was so much hidden damage, he couldn't finish the job for the amount she paid.
"$21,000 went out to him something and I didn't get nothing accomplished at all, nothing but tore out," Clemons said.
And it has been sitting that way for months.
Since Hill's work stopped Clemons' son has helped finish some repairs, but there is still a lot left to be done. "I'm still washing dishes the same way, the bathtub," she said.
The judge subtracted $3,500  from the $21,000 Clemons paid Hill to account for materials he purchased and the time he spent working on the property.
The Clemons family says when they filed charges it wasn't just for their family. In fact, they're not sure if they'll ever see the money again. "I don't see him doing it but I'm hoping so," she said.
Clemons says she really hopes this ruling will help others.
"I'm going to prosecute everything I can. He deserves to go down because I know a lot of people he's done it, he's done wrong," she said.
The family also has a message to people who might hire a contractor in the future. "Stay away from him. Don't trust him. Don't go nowhere near him," her son, William Clemons said.
Tony Hill was not present in court, but he will be given a chance to appeal the restitution order before it's final.