This is an archived article and the information in the article may be outdated. Please look at the time stamp on the story to see when it was last updated.
ROGERSVILLE, Ala. (WHNT) – Almost 200 people gathered at Heritage Park Saturday night in Rogersville to remember Connie Ridgeway, and stand together against violence.
Police found Ridgeway stabbed to death in her apartment on October 23. The State Bureau of Investigation still has not found her killer.
Ridgeway's children, Austin and Cameron Williams lit the first candles at the vigil to remember their mother.
"Every time we do one of these things, another piece of our heart breaks," said Mary Anne Rippey with the Shoals chapter of Victims of Crimes and Leniency. "The three of us know exactly where they've been, where they're going. Even though an arrest hasn't been made, and Ms.Ridgeway had been laid to rest, she truly will not be at rest until an arrest has been made, she's been through the court process, and there's a sentence."
The persons or people who murdered Connie Ridgeway in her own home are still out in our community. Those who joined forces Saturday night spent the evening to stand against them, and others who commit violent crimes.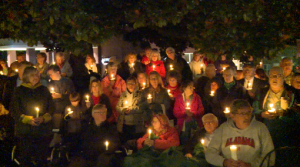 "You're willing to take time out of your night and your day to come here to show this community that you stand against violence," said Sheriff Rick Singleton. "Working together we can make significant changes, and we can make a difference."
This was what police are calling the most violent crime they have seen in Rogersville. Sheriff Singleton made it clear that small towns are not immune to violence, which is why it's important for them to stand together against it.
If you know who may be responsible for the death of Connie Ridgeway, call the Shoals Area Crime Stoppers anonymously at (256) 386-8685.