This is an archived article and the information in the article may be outdated. Please look at the time stamp on the story to see when it was last updated.
FLORENCE, Ala. (WHNT) - Falling temperatures landed a Florence homeless man behind bars for building two fires inside a post office.
On Monday postal workers continued to clean up from two separate fires inside the North Florence Post Office on Edgewood Drive.
Fire fighters were called to the scene early Friday morning for a report of smoke filling the lobby.
They were called back to the post office later that morning for another reported fire.
"I believe he legitimately set the fires to stay warm and didn't have any thought of the consequences of setting a fire inside of a building," Florence Police Investigator Shannon Harris explained.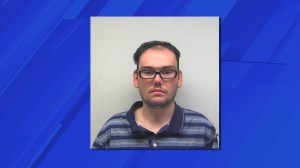 Donnie Bryson was located and arrested shortly after the second fire. He's been charged with two misdemeanor counts of arson.
Harris said the 27-year-old stated he was trying to stay warm when he built a fire inside a garbage can and one on the floor.
Police said there's help for the homeless in the Shoals area, and they just wish Bryson would have taken advantage of it.
"Lobbies are open at the post office as a last resort," stated Harris. "But obviously setting a fire inside of a building is not a good idea."
Harris added not only because of the obvious danger to the building, but the person as well.
The North Florence Post Office did open on Monday, and the remnants of the arson were being cleaned up and repaired.
If you know someone who needs help because of the cold, they can contact The Salvation Army of the Shoals or "Room in the Inn of the Shoals" to make accommodations.