This is an archived article and the information in the article may be outdated. Please look at the time stamp on the story to see when it was last updated.
FLORENCE, Ala. (WHNT) – A family was in shock when they arrived to their Florence home to see smoke pouring out of the top story.
The page went out to Florence Fire & Rescue around 2:30 Friday afternoon. It took about an hour to put out completely.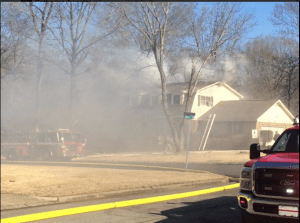 No one was home at the time the fire started. Firefighters at the scene said it appeared the fire started upstairs. Neighbors also reported seeing flames from the second floor.
The smoke was so thick at times, the home was barely visible.
No one was hurt. We are working to find out the cause of the fire.