This is an archived article and the information in the article may be outdated. Please look at the time stamp on the story to see when it was last updated.
MUSCLE SHOALS, Ala. (WHNT) - A group of students at Muscle Shoals High School organized a generous amount of holiday cheer.
They pooled their resources together from classes and school clubs to adopt Angels from the Salvation Army this year.
Macy McCollister is the Inter Club president at Muscle Shoals High School. She was in charge of pulling it all together.
"It's just so rewarding to see everyone in our student body, their willingness to give back to the community at such a hectic time," she said.
Wednesday morning, a handful of students delivered the donations to the Salvation Army center in Florence. It was a nice assembly line, and a sight you don't see often.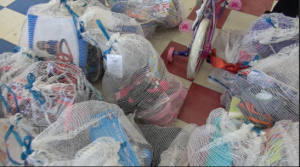 When the folks at the center realized it was teenagers behind the pile of donations coming in, they were happily surprised.
"We love it," said Mercy Winters with the Salvation Army. "And when students come in and actually see what's going on, they get more motivated and it makes them more into their community."
"It's just so fulfilling to have your heart just knowing that you made a difference," said Macy. "We don't all have to be worried about what we're getting for Christmas but we prioritize giving back to others."
Considering each Angel cost anywhere from $100 - $150, 40 adoptions is an incredible amount.
"That is a lot," Winters said. "They raised a lot of money and did a lot of work to get this taken care of and take care of their community."
They spent two weeks collecting donations for their Angels, making Christmas possible.