This is an archived article and the information in the article may be outdated. Please look at the time stamp on the story to see when it was last updated.
KILLEN, Ala. (WHNT) – A pet rescue group in the Shoals is trying to expand, but they need the community's help to make it happen.
Heart of Alabama Save, Rescue, Adopt is a donation based group that takes in unwanted pets, and works to put them in new homes. They rescue dogs from the area's kill shelters. Last year, they rescued 780 dogs.
While they are hoping to expand, HASRA founder Debbie Rappuhn said right now, they have to focus on the influx of pets they have been seeing.
"This won't stop," Rappuhn said. "We'll be packed. The last two weeks, I'm probably getting I'd say 15 to 30 calls a day of people wanting to turn over their dogs or strays come up. I'm trying to take in as many as we can, but we're basically pretty much full now."
HASRA has a sanctuary behind the Arx Mortis haunted attraction in Killen. They have indoor and outdoor kennels, and a few spare. However, they want to expand.
"We want to build another indoor area where we can keep the puppies," she said. "That's big thing to ask for, but we'd like to do that to be able to take in more."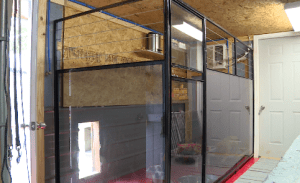 Another project they are working on is remodeling the pens. So far, with the help of donated glass, they have created one high-tech kennel.
"It's just more aesthetically pleasing. We can't spend a lot of money on it but we can do them one at a time."
Rappuhn said each will cost around $1,000 dollars. But, she said it's worth it in the end, if people are more comfortable coming in to adopt.
"When people come up here, the first thing out of their mouth is 'oh my goodness, this is a happy place', it doesn't look like a shelter."
HASRA is also looking to start a dog food bank for those who have a hard time feeding their pets in the community. They are working on a grant for that program.
However, you can also help HASRA by simply visiting.
"We love people to come up here to play with the animals," added Rappuhn. "We're so busy cleaning, taking care, vetting, doing vaccinations, and bathing that we really don't have time to sit with them, which is what we want to do."
If you want to adopt or donate, you can do so here.