This is an archived article and the information in the article may be outdated. Please look at the time stamp on the story to see when it was last updated.
FLORENCE, Ala. - The political landscape in Florence is set to change Monday morning with a new mayor and three new council members set to be sworn in.
Friday morning, Mayor Mickey Haddock finished packing up after four years in office. He spent two weeks gathering up the memories.
"There's going to be a hole, but walking away, I can walk away knowing that financially we are in better shape than we were when I got here," stated Haddock. "From a strategic standpoint we are in a better shape."
Haddock is proud of the fact the city operated in the black all four years, and added to the city's reserves.
He's also proud of an accomplishment residents likely wouldn't notice, building synergy among the many departments.
"Getting those department heads to understand and see the big picture of the city," Haddock explained. "This is a big project that I need to be involved with these four or five, or I need these four or five department heads, and being able to get those department heads to think of Florence as one. I think that is my biggest accomplishment, I really do."
And like most leaders, there's always one project which will haunt them.
"It was Murphy's Law. Every time we turned around trying to do something with it, not being able to get the animal shelter, I think that is going to annoy me for a long-long time," said Haddock.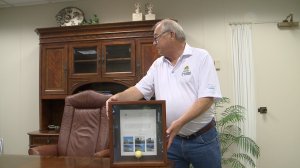 Overall he is proud of his tenure in office and left office with these words.
"It's the most challenging job I have ever had, but it is also the most rewarding. So, I think that can kind of sums it up."
Mickey Haddock was the longest continuously serving elected official in Lauderdale County, with 24 years of service.
Incoming Mayor Steve Holt will be sworn in Monday morning during a ceremony at 10 A.M. in the City Auditorium.