This is an archived article and the information in the article may be outdated. Please look at the time stamp on the story to see when it was last updated.
FLORENCE, Ala. (WHNT) – The downtown Florence area is full of history, but one piece of it seems to be missing: the old neon Coca-Cola sign that towered over the Tennessee River.
Tommy Warren reached out to WHNT News 19 to help track the sign down, and see what could possibly be done to restore it.
"The Coca-Cola, historic Coca-Cola neon sign stood there from 1949 to 2004. and it's part of Florence's history," said Warren. "It's a landmark."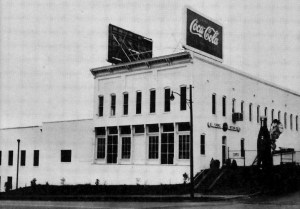 Warren is among many who feel the Florence skyline is missing that rather large, neon piece of history. It was taken down shortly after the Coca-Cola plant closed. However, a group in the Shoals has been working to restore it for quite some time.
"I think a lot of the community would like to see the Coca-Cola signs back on Court Street where they belong," explained Mark Beumer, who is former Coca-Cola bottling plant employee now working on a grassroots effort for restoration. "I think every body who grew up in the Shoals area who is say age 30 or more remembers coming across O'Neal bridge at night and seeing those signs and knowing they were home."
At last check that old Coca-Cola sign was said to be in a field behind the distribution center in the Florence-Lauderdale Industrial Park area. However, Baumer said Coke wants nothing to do with the sign or restoration efforts.
"We have done a lot of work on the background of the sign, on finding out what it would take to refurbish it, get it together, and get it back up," Baumer said.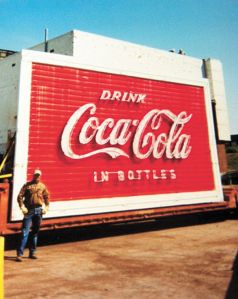 Larry Faulkner is also a community member who spearheaded the restoration effort years ago. He said the owner of the sign is in question, but the cost to repair it as is is roughly $65,000. They are working through Heritage Preservation Incorporated, and donations are tax-deductible.
Faulkner said they got the repair estimate through General Signs in Sheffield. The sign however, is in extreme disrepair.
"We hoped to use part of the old sign to build a completely new one that looks and operates like the old one," explained Faulkner.  "However, the new one will be state of the art and up to date with electrical codes and technology."
With more than a mile of neon tubing, the sign will be hard to replicate as it was in the 1940's. But, they want the community to know they are working on putting it back into the Florence skyline.
"It's something that's absolutely going to happen," Beumer said. "It's just a matter of time."
As of now, there's no set location. They still need a city permit to move forward. Mayor Mickey Haddock said he is behind restoring the sign but they cannot allocate city money toward the project.
To check out the effort from Historic Neon Coke Signs in Florence, click here.