This is an archived article and the information in the article may be outdated. Please look at the time stamp on the story to see when it was last updated.
UPDATE:  This story was initially reported Monday, April 2.  As of 8 a.m. Tuesday, April 3, city workers had already painted over the mural in downtown Florence.  
FLORENCE, Ala. – The wonderful thing about the First Amendment, people are allowed to express their thoughts and feelings. However, someone has shocked an entire city after they put their latest graffiti creation in downtown Florence.
Historic Downtown Florence is known for its all-American feel. Over the last several years though, graffiti artists have been putting their stamp on walls.
"It's not something that we want to have to see every day." Sarah Shirey and her husband own Turbo Coffee on Tennessee Street across from the latest graffiti display. It depicts President Trump shooting a handgun at children. The display appeared early this morning.
"My husband and I were looking at it, trying to figure it out, and then we realized all of the red coming out of the bodies was blood; and then I was assuming it was a school shooting," stated Shirey.
Florence city leaders are just as shocked as Shirey and the others who have seen it. The display is on private property so their hands are sort of tied.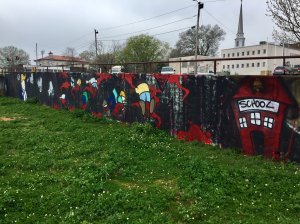 Shirey understands the importance of free speech, but she believes the concrete wall is not the place to do it.
"They are obviously trying to send a message about what they believe, and I guess people have that freedom here, but that is a private piece of property and so they can't really do it there. Which we really don't appreciate it there," Shirey said.
City leaders said they have reached out to the property owner to come up with a plan to clean it up. Police Chief Ron Tyler said the display should be painted over in the next day or so.
In the meantime, hundreds of cars are passing by each hour, having to view something so alarming.