This is an archived article and the information in the article may be outdated. Please look at the time stamp on the story to see when it was last updated.
HUNTSVILLE, Ala. (WHNT) – Gang activity is something most people only associate with large cities or lower income neighborhoods, but that's not the case anymore. Law enforcement officers from multiple agencies confirm gangs are here in communities across north Alabama.
They also stress how important it is to be proactive and not reactive and that means knowing how to spot the signs.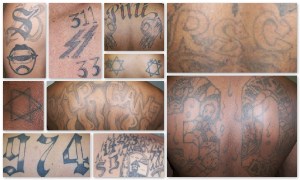 Police say the signs are everywhere. Animals, numbers, plants, roman numerals, dots, and stars are just some of the common images that could have a hidden meaning.
"You might have it on your street sign in your neighborhood," said Huntsville Police Officer Dwight Atkinson. "You might have it on your sidewalk."
The signs could also be on someone, in the form of a tattoo. Police say gangs are making their presence known in north Alabama. It's not limited to one group.
"It crosses the racial spectrum," said Huntsville Police Officer Carl McDuffie.
It's not based on a certain income bracket.
"Gangs are very diverse," said Kevin Turner, Chief Investigator for the Madison County District Attorney's Office and a nationally recognized expert on gangs. "There's no barrier."
Police say the gang activity is not going away.
"We do have a problem," said Officer McDuffie. "This is a community issue. This is a county issue. This is a state issue."
Huntsville Police Officers Carl McDuffie and Dwight Atkinson are school resource officers who specialize in gang prevention. Every day, they work to combat gang activity in schools. Atkinson says it's important to know which images and symbols have a hidden meaning.
"A person can have a whole arm of tattoos, but you have to look at what's in a tattoo," explained Atkinson.
For example, McDuffie says a trio of dots is used by La Mara Salvatrucha, or MS-13.
"This is the most ruthless gang in the world, according to all statistics," said McDuffie. "That's what three dots are representing – 'my crazy life', 'mi vida loca', or 'jail, hospital, cemetery.'" Police say that MS-13 reference describes one of the three places where gang members will end up – jail, hospital or cemetery.
There are a plethora of images that may seem innocent, but have dangerous implications. Before you let your teenager get inked, it's imperative that you to know what they are.
"Know what you're looking at," said Turner. "There are things you can put on your body that would probably be disrespectful toward a particular gang."
Gangs and the innocent images they've staked claim to are on the radar for some folks.
"I've had to do tons of modifications," said Adam Fellhoelter, tattoo artist at Kreations Tattoo and Body Piercing in Huntsville.
Over the years, Fellhoelter says he's had to change a lot of tattoos that people get, then later learn of the negative association.
"A couple of weeks ago, we had to change a five point crown into a seven point crown just over the idea that it might be gang related," said Fellhoelter.
Fellhoelter agrees with police that everyone should pay attention.
"They should know the small little meanings behind certain things," said Fellhoelter. "We're tattoo artists. We don't know everything out there, but we try."
How much do you know?
A crown with five points is one of the main images for Latin Kings.
A rabbit with one ear lowered represents Vice Lords, as do canes and top hats.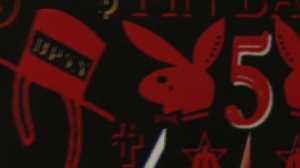 A six point star or pitchfork are symbols for Gangster Disciples members. Even the numbers 7 and 4 represent the 7th and 4th letters of the alphabet which form the initials for the Gangster Disciples, G.D.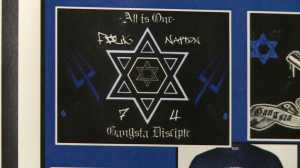 Old English style letters are often used in abbreviations for gangs, like A.B., which stands for Aryan Brotherhood.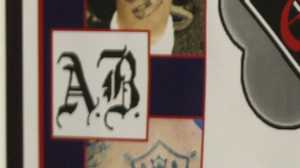 These are just some examples. Police confirm at least 20 known gang organizations in Madison County and that number continues to climb.
"Here in the recent couple of weeks, we've found out that new gangs have popped up," said McDuffie.
Law enforcement officers say they are staying on top of this.
"We don't want that coming to Madison County, Madison city, and Huntsville," said McDuffie.
Police encourage you to do your part by getting educated.
"If you see something that you think is gang related or you think it's gang graffiti, call us," said Turner. "We've got a pretty good beat on what we have here in town and who the guys are that run things and we can either stop it or get on top of it real quick."
Would you be able to spot the signs if you saw them? Below, we've identified which images from the online poll are gang related.
There is a lot of gang imagery out there, in the form of tattoos or graffiti. If you see something and you're not sure what it is, police say don't panic or confront anyone. If you have questions or need help identifying whether or not an image is gang related, you can call police, ask a school resource officer or send an email to gangtaskforce@madisoncountyal.gov. You can also send pictures to that email address.
Click here to visit the website that members of the Madison County Detention Facility's Gang Task Force recommend to get information about gang identification. You can contact Sgt. Scott Brown or Officer Gregory Davis if you have questions regarding gang symbols or tattoos by calling (256) 519-4839.
To contact Investigator Kevin Turner, call the Madison County District Attorney's Office at (256) 532-3460.
Huntsville Police Officers Dwight Atkinson and Carl McDuffie work daily at Butler High School. Parents can reach out to the school resource officers directly or by calling the Huntsville Police Department at (256) 722-7100.