This is an archived article and the information in the article may be outdated. Please look at the time stamp on the story to see when it was last updated.
FRANKLIN COUNTY, Ala. – A security deputy at the Franklin County Courthouse was injured after a hair-raising incident. She was drug by a vehicle trying to get-away with an escaping arrestee.
Franklin County Sheriff Shannon Oliver says Troy Eugene Dawson was at the courthouse for a mandatory drug test. After failing it, authorities took him into custody. While waiting for a transport van, Dawson contacted his girlfriend with his cell phone to pick him up. When she got outside he bolted with the security deputy close behind.
Sheriff Oliver said the situation was "very dangerous. it could have been a lot worse for her. She could have been run over as the vehicle sped away."
"They went out into the parking area, she had hold of him and the vehicle and she was drug down," Sheriff Oliver stated.
The deputy received 14-staples from the incident.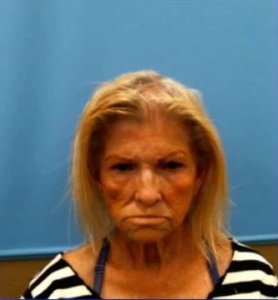 Dawson's girlfriend Melanie Sherrill, 68, was tracked down and faces felony assault charges. Deputies are continuing to search for Troy Dawson who now faces felony charges as well.
As with any other major incident, Sheriff Oliver says they will go back and reevaluate their policies and procedures, and make any changes they see necessary.
The Franklin County Security Deputy has been released from the hospital and continues to recover.
If you see Troy Eugene Dawson, contact the Franklin County Sheriff's Office or your local law enforcement officials.