This is an archived article and the information in the article may be outdated. Please look at the time stamp on the story to see when it was last updated.
KILLEN, Ala. (WHNT) – Four young adults were burned early Saturday morning in a fire pit explosion outside a home in Lauderdale County. Three of them are still being treated at the University of Alabama at Birmingham Hospital's Burn Center.
The friends were together at a home on Lauderdale County Road 415 to celebrate a birthday, according to the state fire marshal's office. Just after 1:30 a.m. one of them went to stoke the fire. It appears the person poured gasoline on the flames. The fire rose up the gas fumes, into the gas can causing an explosion, the fire marshal said.

Three victims, Haley Jordan, Alex Grisham and Katie Kirk, are currently being treated at UAB's Burn Center. Grisham and Kirk were listed in critical condition and Jordan was listed in fair condition at last check.
The fourth victim, Carley Lacks, was treated and released from Eliza Coffee Memorial Hospital in Florence.
Gofundme accounts have been set up for Jordan, Grisham and Kirk to help raise money for medical expenses.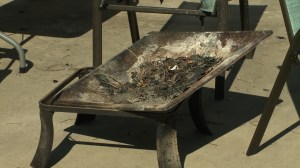 The fire marshal urges all combustible items be kept at least three feet away from a fire. The fire marshal also said gasoline should never be poured on a flame.