This is an archived article and the information in the article may be outdated. Please look at the time stamp on the story to see when it was last updated.
FLORENCE, Ala. – The Florence Police Department is asking for help from its residents. A shooting at a popular Florence hang-out over the weekend turned fatal and police need witnesses to come forward.
Crime tape covered half a city block Sunday morning. Numbered plaques marked the relevant pieces of evidence left behind from the shooting. 42-year-old Patton Shipley died from his injuries, and a second man was able to be saved.
"Knowing the truth into what happened versus rumors of what happened; we're looking for the facts," stated Florence Detective Justin Wright.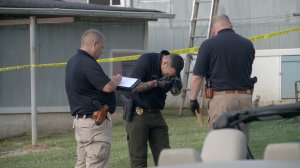 The shooting happened outside a residence on Westmoreland Street. Detective Wright said there were a lot of people hanging out prior to the shooting. It's his belief numerous people likely captured what happened on their smartphones.
"We're asking that if anyone has captured any of the incident on video, photographs, or any witness who can provide testimony to help bring this case to a resolution, we're asking them to come forward," said Wright.
Investigators believe an ongoing dispute between the victim and another man led to the shooting; they just need to figure who escalated the argument with gunfire.
No one has been charged in the shooting death at this point. The second victim who was shot is being treated at Huntsville Hospital for multiple injuries to his legs. You can reach out to Florence police or the Shoals Area Crime Stoppers tip line at (256)386-8685 with any information for authorities.