This is an archived article and the information in the article may be outdated. Please look at the time stamp on the story to see when it was last updated.
FLORENCE, ALA. – Police say they located the victim's missing car on July 3 with the help of Tennessee authorities.
Florence Police Sergeant Greg Cobb says the vehicle was found in a Memphis parking lot by the city's police on Tuesday, during a press conference on July 5.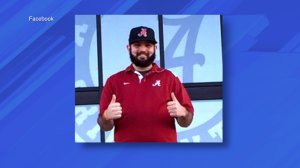 Florence Police held the crime scene for more than 24-hours. They combed through everything in Devan Cobb's Four Season's apartment looking for clues.
Friday afternoon, family members grew concerned when they couldn't get in touch with Cobb and called police. According to investigators, patrol officers entered his apartment and found him deceased in a bedroom.
The 23-year-old was a Muscle Shoals High School graduate and married.  Investigators say his wife was out of town when the discovery was made.
During the investigation, it was determined Cobb's vehicle was missing. The Florence Police Department just released
family pictures of the car. It's a black 2008 Suzuki Forenza bearing Alabama license plate 41FV985. Investigators believe if they can find the car, they might be able to figure out who committed the murder.
Florence police are remaining tight-lipped about the cause of death. They believe it could hamper the investigation if it gets out.
If you have any information which could help Florence police solve this crime, call the Shoals Area Crime Stoppers tip line at (256)386-8685 or Text 274637 (CRIMES). A reward is being offered for information which leads to an arrest.