This is an archived article and the information in the article may be outdated. Please look at the time stamp on the story to see when it was last updated.
FLORENCE, Ala. – Two Tennessee residents are behind bars accused of committing a murder in Florence late last week. Police say their investigation led them to a Memphis hotel room Monday night where the two were hiding out.
Florence police held the crime scene at Four Season's Apartments for more than 24-hours. 23-year-old Christopher Devan Cobb was found shot to death in his bedroom.
"I don't think this was a random act where someone picked Florence Alabama to come and commit this murder," said Capt. Brad Holmes with Florence Police.
18-year-old Hannah Burrows and 31-year-old Jesse Parker were taken into custody early this morning in Memphis. The two are being held on fugitive from justice warrants. Investigators say Burrows and the victim Devan Cobb had a common interest, both performed in high school band.
"I believe there had been a connection made between the two previously," stated Capt. Holmes. "Evidence has led us to believe the two individuals who were arrested were in the Florence area and may have been staying with Mr. Cobb for several days."
During the investigation, officers realized Cobb's vehicle was missing. They say that car,  a black 2008 Suzuki Forenza bearing Alabama license plate 41FV985, is still missing. And police say just because two people have been arrested, it doesn't mean the investigation is over.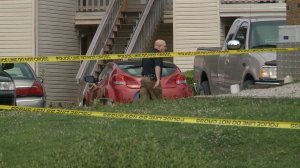 "Part of what our detectives will be working through over the next several days is solidifying the timeline, solidifying the relationship and any contact that Mr. Cobb had with Miss Burroughs and Mr. Parker," Holmes explained.
Burrows and Parker had an extradition hearing in Shelby County Wednesday morning. They have arrest warrants for murder waiting on them in Alabama.
A spokesperson with FPD says Parker and Burrows are in custody in the Lauderdale County Detention Center with no bond. They will have a bond hearing Thursday, June 28, to determine if a bond will be set and how much it will be.
Florence police say a search warrant was performed on the hotel room in Memphis where the two were staying. Investigators say evidence crucial to the case was located inside.
Florence Police ask anyone with information on the location of the car to call them at 256-768-2728.