This is an archived article and the information in the article may be outdated. Please look at the time stamp on the story to see when it was last updated.
FLORENCE, Ala. – A Florence neighborhood has reached their breaking point. They are done with speeders and the other drivers who fail to obey basic traffic laws.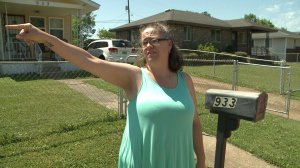 "I taken videos of it, I've yelled and screamed," exclaimed Petra Coppers. "My neighbors think I'm crazy, but somebody has to do it."
Petra Coppers is on a mission and her neighbors are right beside her. They live along West Irvine Street. For months they have watched construction workers from a nearby development show no regard for the neighborhood.
"There is a stop sign on the corner, and 90% of the time the trucks come flying through here. They do not stop," stated Coppers. "We have elders, we have children playing in the yards."
District One City Councilwoman Kaytrina Simmons said she has witnessed the same thing. She took her concerns to the job site superintendent which helped for a while.
But Coppers said the problems go beyond just workers. The speed limit along West Irvine Street is 20-miles-per-hour.
Residents say it is very rare to see a car traveling at that speed. Which is why they would like to see more speed breakers. Councilwoman Simmons says the Florence Engineering Department is looking into that.
Coppers just wants something to happen before it's too late.
"I don't want to see anyone here get hurt," explained Coppers. "We have had so many deaths in this neighborhood that we could not control, but this is something we can control."
Coppers said if it takes a petition to get something done along West Irvine – they'll do it. It's time for the city to step up.
As construction begins wrapping up this summer, residents are turning their attention to hundreds of college students who will begin living at the development. Their concerns remain the same – speed and not obeying traffic laws.
WHNT News 19 has also spoken with the Florence Police Department about patrolling the area more regularly. They say the particular neighborhood has had a patrol request in place since March and they will continue their efforts to slow drivers down.