This is an archived article and the information in the article may be outdated. Please look at the time stamp on the story to see when it was last updated.
FLORENCE, Ala. - Tucked away in a renovated classroom at Burrell-Slater School in Florence sits decades of history. It's the history of the Florence City Schools, dating back nearly 200-years.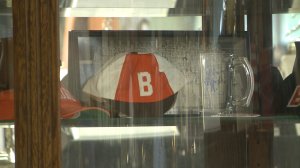 "They absolutely love it. They (visitors) will stay for 2 or 3 hours just milling around," explained Billy Ray Warren, Historian for the City of Florence.
Warren said it was the brain-child of several alums who watched Bradshaw and Coffee High Schools merge into Florence High. The room proudly displays artifacts from both schools.
"Sometimes its Bradshaw, sometimes its Coffee, sometimes its just citizens who are like me and interested in just how did all of this come about," said Warren.
As a long-time educator and now City Historian for Florence, Warren knows the importance of preserving history.
Warren is most proud of the wall which displays how the school system began in 1820.
He is constantly working to keep the museum fresh, "It will always be a work in progress and I don't say that apologetically, I saw that because it has to be a living and breathing organism."
Normally the room is only open by appointment. Friday they will open the doors to the public, allowing residents to reflect on their childhood from days gone by.
The Florence City Schools Memorabilia Room is located at Burrell-Slater School, just off west College Street with doors opening from 10 A.M. until 1 P.M.