This is an archived article and the information in the article may be outdated. Please look at the time stamp on the story to see when it was last updated.
FLORENCE, Ala. - It's one of the most pressure-filled moments in a man's life – the marriage proposal.
Well, one Florence man went to the extreme to surprise his soon-to-be fiancée, who is a nurse. The whole ploy spread across social media like the flu and has become a hit.
"Are we on? Alright we are on Facebook Live and this is the proposal for Bonnie," Joshua Cochran said to the phone camera as he sat on an emergency room bed.
Cochran is an eager man trying to propose to his emergency room nurse girlfriend Bonnie Brzytwa.
He said he tried to propose two previous times, but both of those fell through. So he showed up at the ECM emergency room Wednesday morning.
"The whole thing was you can't just come in with flowers, a bouquet of flowers and a ring," Cochran said. "You actually have to come in as a patient. I thought, 'Okay, how can we do this?' So the whole idea was a boating accident."
Cochran wrapped his hand up to fake an injury. Beneath the gauze, he held an engagement ring.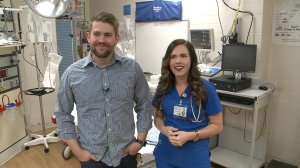 "He just seemed shaky and kind of concerned about it and his voice was a little quivery," explained Brzytwa. "So I figured he is serious about this, like this is something legit."
"She was cutting it, a little bit shaky, not much," described Cochran. "She was really professional and did good. And then as soon as she saw the ring it was shock, she was shaking and I was shaking probably as bad as she was."
The following is an excerpt from the video as she uncovered the ring.
Bonnie Brzytwa - "Oh my gosh."
Joshua Cochran - "Will you marry me?"
Bonnie Brzytwa - "Yes!"
"I was in shock. His main goal was to surprise me and he went far and above surprising me," Brzytwa said.
Guys, good luck trying to top this one! The video has already gone viral on social media. Early Thursday afternoon, the video posted to the North Alabama Medical Center – ECM Facebook page had reached 968,000 people and watched by tens of thousands.
No word yet on a date for the wedding.