This is an archived article and the information in the article may be outdated. Please look at the time stamp on the story to see when it was last updated.
FLORENCE, Ala. (WHNT) – The incoming Florence Fire Chief is one making city history.
Florence Fire Rescue leaders voted 5-0 to elect Jeffrey Perkins as the new Fire Chief of Florence Fire Rescue Department.
"It means a lot," said Perkins. "I was proud to hear the fact that I got the position. It's a very exciting day for me. Even though it's raining out,  it's very sunny to me."
Perkins was promoted Wednesday morning from the position of Deputy Chief of Administration to the Chief of Department.
It's more than an accomplishment for him, but for the City of Florence too. Perkins is the first Africam American to serve as a department head.
"I've come up the ranks, I've worked hard to get where I am," said Perkins. "I went and got my education. It means so much to me being the first."
Perkins said his main goal is to save lives, protect property and make sure citizens are taken care of.  He's proud to serve a community where he was born and raised.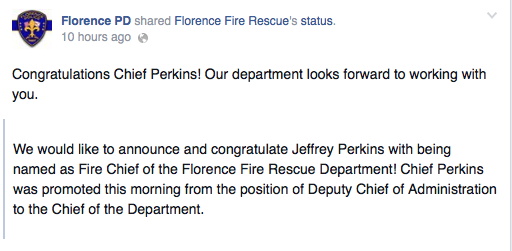 Florence Fire Rescue as well as the Florence Police Department wanted to congratulate Perkins on the promotion.