This is an archived article and the information in the article may be outdated. Please look at the time stamp on the story to see when it was last updated.
FLORENCE, Ala. – They're calling it a celebration like never before. The Florence Fourth of July celebration will not only be honoring the country but the city's landmark birthday as well.
The celebration grounds have been cut and vendors have started setting up. Wednesday's Fourth of July celebration at McFarland Park will not look like years before. City leaders say it's being geared towards family fun.
"It's kind of a flagship for our entire bicentennial which runs from March until November, but this is right in the middle of it and it is just a big event," stated Florence Mayor Steve Holt.
Games for all ages will be scattered across the lawn during the afternoon.
And as big as music is to the Shoals' heritage, Mayor Holt said there will not be a shortage of entertainment. Live music will play up until the fireworks at 9 p.m. and after the show.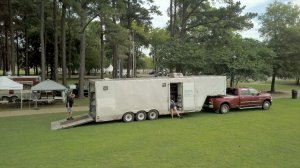 According to Holt, there will be 50% more fireworks in the same 15-minute firing they typically do.
"It's a unique finale for us; something we haven't done before," said Holt. "It should, you should be able to see 200 and we're excited about that. It's our best one ever."
All to celebrate our great country and the City of Florence's Bicentennial. Festivities kick off at 1 p.m.
Florence police ask the public to be patient with traffic around McFarland Park, especially after the fireworks show at 9 p.m. Recent rains may keep some of the parking areas police typically use to be closed. You may want to plan on getting there early for parking.
FAMILY ACTIVITIES will be from 1:00 to 4:00 p.m. and include:
Beach Lawn Area: Arts and Crafts; Bell Striker; Tattoos; Corn Hole Toss Games; Sack Races; Obstacle Course; Giant Tic Tac Toe; Giant Checkers; History Challenge; Football/Baseball Throwing; Spin Art; and the Bicentennial Merchandise.
Shelter #1: Bocce Ball; Croquet; Horseshoes; Bingo; and Checkers
ENTERTAINMENT SCHEDULE
11:30 a.m. Karaoke Stage (Beach Entrance) Host DJ Kidd Rock
12:00 p.m. Jeff Hornbuckle--Opening blessing
1:00 p.m. Alieca Elliott
2:00 p.m. Southern Breeze
3:00 p.m. Aaron Blades
3:40 p.m. Crossing Dixie Band
4:00 p.m. Kreek Band
4:40 p.m. Samantha Fulks, Kids Fest Idol winner
5:00 p.m. Ava's Attic
6:00 p.m. Bad Ethyl
7:00 p.m. McTazz Band
7:45 p.m. Zac Hacker w/ McTazz
8:30 p.m. Diedra & The Ruff Pro Band
8:55 p.m. Zac Hacker & Keithen Ruff – GUITAR TRIBUTE – STAR SPANGLED BANNER
9:00 p.m. FIREWORKS
9:15 p.m. Diedra & The Ruff Pro Band Returns
Followed by a tribute FINALE to the Sounds of Muscle Shoals choreographed by Zac Hacker & Wayne Chaney. You never know who May Grace the stage!