This is an archived article and the information in the article may be outdated. Please look at the time stamp on the story to see when it was last updated.
FLORENCE, Ala. – In an effort to save residents money, the city of Florence is trying to expand their current landfill. If approved, the current footprint won't get larger, they want to go up.
The Florence landfill, as it sits today, is quickly approaching its life expectancy. Realistically, city leaders say they could use the landfill for about another year before they would have to cap it. Which is why they are asking ADEM for an expansion permit.
"Allowing us to go vertical would give us upward of 35 more years to use this area without expanding the footprint out into any new territory" explained Florence Spokesman Phil Stevenson.
City leaders said it would be an expensive and lengthy undertaking to find a new landfill site.
They are asking ADEM to allow the city to use the space between the five garbage mounds. It would more than quadruple the available space they use for construction and demolition debris.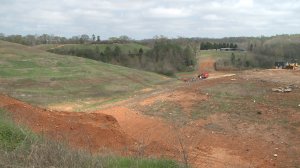 "It's taken a good three or four years to get to this point," stated Stevenson. "Of course now, it's in ADEM's hands about what they will require us to do, and if they require it we will do it."
The permitting process is in the final stages. ADEM is taking public comments until April 14th. At which point they will make a decision as what to do with the landfill property.
Since 2012, the city of Florence has transferred household garbage to a facility in Mississippi for disposal. The permit request is for construction and demolition debris only.