This is an archived article and the information in the article may be outdated. Please look at the time stamp on the story to see when it was last updated.
FLORENCE, Ala. - Progress will soon be evident in the building of a new hospital in northwest Alabama.
With clouds looming overhead, a crane operator plucked the first piece of steel from its resting spot Monday morning.
After months of site work, administrators with North Alabama Medical Center watched with anticipation. Their dream of a new hospital in Florence is visible.
"This is a big day. It's a major milestone for us," stated Mike Howard, COO of North Alabama Medical Center. "I think probably the most exciting part for me is that the community will be able to see the actual shape of the building starting to come up. From the road over the past few months there has been a lot of ground work going on, but this will allow us to start seeing things come up."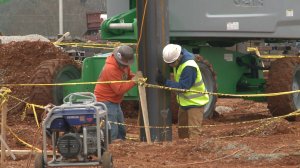 Construction workers have pushed through rain and mud over the last couple of months to get to this point. Workers can now forge ahead, assembling 2,800 tons of Alabama steel.
"The structural skeleton of the building will take shape in about five months," explained John Thomas with Layton Construction. "We will start from the core and then work our way out through the patient tower and then out through the first floor. So that will take shape throughout the summer and early fall."
Layton Construction, who is overseeing the project, will be bringing in a second crane by the end of March to help speed the construction along.
Both the hospital and construction company are still pushing towards a late 2018 opening date.
Hospital officials are still meeting with Florence city leaders to discuss the plans on what to do with the current ECM Hospital which will be closed.