This is an archived article and the information in the article may be outdated. Please look at the time stamp on the story to see when it was last updated.
FRANKLIN COUNTY, Ala. – There's been much talk about how to make schools safer during the most recent legislative session and on the campaign trail this year. But so far, there has been little action taken in Alabama to help schools, which is why some are digging deep to hire school resource officers.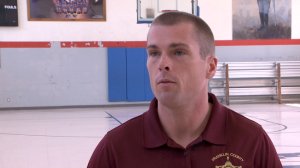 Franklin County Deputy Brent Wells says he has now gotten his ideal assignment. He's patrolling the hallways and grounds of school campuses as the first School Resource Officer in Franklin County.
"I've had a lot of people come up and thank me for it, and talk about how grateful they are to have it," said Wells.
The Franklin County Board of Education and county commission are splitting his salary and benefits.
Sheriff Shannon Oliver has been trying since 2011 to get SRO's onto campuses. School shootings across the country have opened a lot of eyes.
"Especially in a rural county where law enforcement is a long way away, we've got somebody that is designated to be at the school or respond quickly," Oliver said.
Sheriff Oliver has been watching the political landscape closely across the state. Specifically, recent reports of a possible special session in Montgomery to address school security and funding for more SRO's.
"You hear talk of that, and I certainly hope so," stated Oliver. "I would have never thought when I was in school, we would see School Resource Officers there. But, I think it is something positive to have in a school system."
Sheriff Oliver and the board of education hope to have a second SRO in place by the start of the fall semester.
The current School Resource Officer in Franklin County divides his time between 6 school campuses. Sheriff Shannon Oliver hopes to develop a plan in the coming months to put even more SRO's in place across the county.