This is an archived article and the information in the article may be outdated. Please look at the time stamp on the story to see when it was last updated.
MUSCLE SHOALS, Ala. – In an emergency seconds count for first responders. To hone their skills, emergency management coordinators hold disaster drills.
Thursday morning a scenario took place at Northwest Alabama Regional Airport.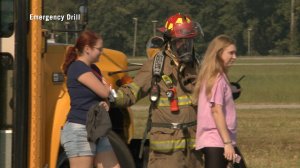 Dispatchers sent the call out just after 10:00, "…for an aircraft collision with multiple occupants on board. 911 standing by 10:04, this is a drill…"
A drill with lives in the balance. Two airplanes collided on the tarmac in Thursday's scenario. They were represented by buses; both were full of passengers.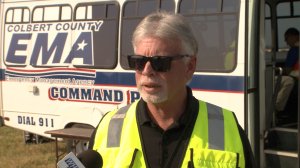 "We get a lot out of these exercises," stated Colbert County EMA Director Mike Melton. "For instance, response – communications – how we work with each other. We also use this opportunity to work with our hospitals."
Northwest Alabama Regional Airport is required by federal law to test their emergency preparedness every three years. Fire, EMS and 911 responses are all noted by observers.
"Every participant has objectives that they wanted to test out," said Melton. "With those objectives we try to talk about how they worked."
Melton said it's better to test them here in the field under controlled conditions. They debrief once the scenario is complete.
"In theory, the next time we have an exercise or event we have got a little bit of experience as to what did not go right, to improve on our response and communications out here," Melton explained.
Skills they take back to their stations and be better prepared if disaster does strike.
First responders from Colbert, Lauderdale and Franklin counties all participated in Thursday mornings mock disaster drill.