This is an archived article and the information in the article may be outdated. Please look at the time stamp on the story to see when it was last updated.
LAUDERDALE COUNTY, Ala. -- According to the latest statistics, Alabama ranks in the top ten of states whose households own a gun. With gun ownership comes great responsibility, and one of the biggest advocates for training in the Shoals is the newest shooting range.
Cypress Creek Indoor Range's co-owner Gene Schrieber spent his first career as a law enforcement officer.
He wanted this facility to be different from the others. Since opening their doors in May, this gun range in Lauderdale County has seen tremendous growth.
They offer the only indoor firing range in northwest Alabama and also sell firearms.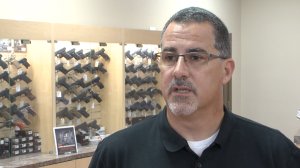 "We do feel very strongly, if you do want to purchase and carry a weapon then you need to be responsible with it," Schrieber stated. "You need to get educated, you need to get trained."
Which is why Cypress Creek included two classrooms in the blueprints.
Anyone can pick up a gun and shoot, but what happens afterward is still a guessing game for many.
On October 10th at the range, Lauderdale County District Attorney Chris Connolly will explain the laws pertaining to stand your ground, also concealed and open carry laws.
"We want to educate people and we want to train people on how to use a gun properly, and when they know their rights and their responsibilities the whole package makes them safer and makes them able to defend themselves if they feel the need to," Schrieber said.
Because of the rise in violence toward churches across the nation, Cypress Creek Indoor Range has also started offering training in that area.
More and more churches across the Shoals are implementing security teams-- men and women who need to be trained to deal with all sorts of scenarios.
Schrieber said they use experienced law enforcement officers to train the average lay-person. "The church security training since we have announced it has really taken off, and we are getting a lot of inquiries about it. So, it's growing tremendously."
A training opportunity which no one wished they had to offer.
The Cypress Creek Indoor Range is located on Highway 157 (Cloverdale Road), just north of the Florence City limits in the Underwood Community.
Follow this link to learn more about the training opportunities they offer.