This is an archived article and the information in the article may be outdated. Please look at the time stamp on the story to see when it was last updated.
FLORENCE, Ala.  - With all of the unrest across the world, communities here in the U.S. are on alert for anything unusual. In the Shoals, church congregations have been rattled after unidentified foreign men came in, acting suspiciously.
Every time the doors are open at area churches, visitors and parishioners alike flock in the front doors.
But when some Arab men decided to attend services at more than six churches across the Shoals, concerns were raised. Church members saw the men taking pictures during worship and messages.
The Florence Police Department and FBI investigated the incidents.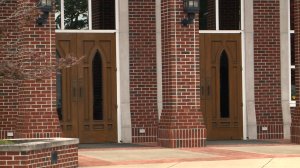 "In those cases and at these local churches, they were college students who were from another country who were not familiar with our customs and actions here in the United States and were attempting to learn what our cultures were," explained Sgt. Brad Holmes with the Florence Police Department.
Holmes said there were also reports from the community of similar actions around O'Neal Bridge and McFarland Park, which turned out to be college students as well.
With the current climate across the world, Holmes said he is glad churches and the public came forward to report the incidents.
"Let us look into it. It's the right thing to do. It's the adult thing to do in these situations," Sgt. Holmes said. "So, we appreciate all the contact that we do have with our community."
And Holmes encourages everyone, if you see something – say something. He said they will always look into suspicious activity.
Law enforcement officers hope this will put residents' minds at ease in the Shoals. And if you have any questions or concerns about incidents in your community, please contact your local police or sheriff's office.