This is an archived article and the information in the article may be outdated. Please look at the time stamp on the story to see when it was last updated.
FLORENCE, Ala. (WHNT) - There were 131 service members from Lauderdale County who were killed during World War II.
Thirty-one of those were listed as Missing in Action - including Pfc. Mack Tays. 70 years later, things belonging to Tays are starting to come home.
"You know, for a long time, I thought, 'well, he's going to come back,'" said Tays' only living sister, Marie Whitehead. "After we got the final telegram that he was killed, I didn't believe it. He'll be back one day."
Whitehead said her last memory of her brother was the last time he packed his suitcase to deploy.
"He couldn't fit his boots in his luggage, and he was getting so mad. It was funny, because he wasn't mad about leaving, just the boots," she said.
She said no one was allowed to take Tays to the train station that last time.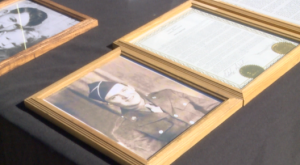 Now, for the first time since Pfc. Tays was killed on an Italian battlefield while fighting for their liberation in 1944, there's some hope.
"There seems to be a common saying that this is closure," said Whitehead. "It kind of is. But, it's more like honor."
Major General James Dozier said there is a clear message to take away from Wednesday's Veterans Day service.
"Freedom is not free. It is always worth fighting for," Dozier explained.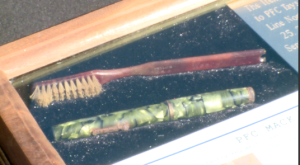 From Florence, Italy to Florence, Alabama, Dozier unveiled artifacts that were found by farmers and search parties in Italy. They included a dogtag, toothbrush, pen and shaving mirror.
"Just even taking the time for just a little country boy that gave his life for our country, this is honor and he would be so thrilled," Tays' sister said.
Dozier was part of the team that reunited the artifacts with Tays' family.
"The concern that these farmers and the other Italians had for an American service man who had sacrificed his life for the liberation of Italy was just heartwarming," he said.
Dozier was honored to be a part of all of it and to have helped serve the family who faced the ultimate sacrifice.
"The American military's role around the world is to help people who are less fortunate than we are fight for their freedom. Mack Tays did that."
Tays' family had been told, "He suffered a deadly casualty on September 25, 1944. Circumstances of death attributed to Missing in Action. Memorialized at Tables of the Missing in the Florence American War Cemetery, Florence, Italy."
Just months after he was listed as MIA, unidentified human remains were found near where his personal belonging were discovered.
"I don't even know the words to express how I feel, that's my final message. I just don't know," Whitehead said.
Tays' family said it will take his body coming home to have full closure. There is a joint personnel recovery agency working to identify remains around the world, and they are hopeful they can one day match his DNA.