This is an archived article and the information in the article may be outdated. Please look at the time stamp on the story to see when it was last updated.
COLBERT COUNTY, Ala. – Persistent rainfall this winter and spring has caused ongoing problems for local governments across the valley. In Colbert County, more than two feet of rain this year is creating issues beyond the roadways.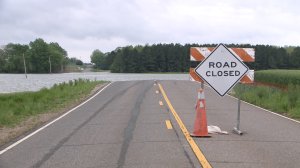 On February 25th, the Colbert County Road Department was forced to close east Sixth Street at Fennel Lane. That was two months ago and the road closed signs are still up.
"We were actually looking at opening up Sixth before last weekend," said County Engineer John Bedford. "When those rains hit and these rains hit, it's more than two feet underwater now."
Bedford said even if it stopped raining for a month and the sun came out – the road would likely remain closed due to standing water; the ground is just that saturated.
Flooded roads are not the only thing Bedford has had to worry about with all of this standing water; he is now having to turn his attention to water lines.
"If we lost them right now, if they broke, I wouldn't be able to repair them. We would have to do some MacGyvering," Bedford stated.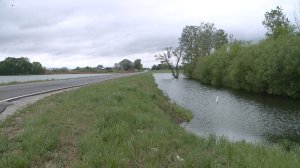 Bedford is talking about the location of water lines at Gnat Pond Road and Sixth Street. It is just one spot where lines are buried well below the current water table. He is having to lay new lines closer to the shoulder of the road, just to access them.
"It's nothing new; it's been there. It's just the idea that this water is remaining and standing as you said for a couple of months, and we have been very fortunate that we haven't lost one of our mains," explained Bedford.
4,000-feet of new 6-inch and 10-inch water lines are going to cost the county more than $100,000. They just have to wait on installing them until it stops raining.