This is an archived article and the information in the article may be outdated. Please look at the time stamp on the story to see when it was last updated.
TUSCUMBIA, Ala. – In August Erica Fox was arrested in connection with her husband Jason's murder.
Tuesday morning, Fox appeared in Colbert County District Court for a preliminary hearing on her capital murder charge.
Muscle Shoals Police Investigator Ken Vess is the lead detective in the murder case. He testified when he got to the Fox's home, Jason was lying in the doorway of the carport entrance.
According to Vess, an empty shell casing was located in the laundry room along with an empty holster.
Vess said it appeared the fatal shot was fired through the door and into Mr. Fox's head on the right side.
The investigator said the crime scene seemed staged to look like a burglary.
Vess said Erica Fox kept changing her story through-out their investigation. During one interview, Fox told detectives she was having multiple affairs on her husband, and one of the men had mentioned killing him so they could be together.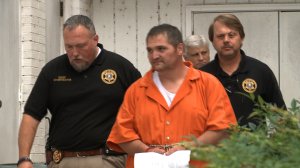 That statement to police led to the arrest of Ronnie Credille for capital murder.
Erica Fox admitted to meeting with Credille the night before the shooting in a parking lot in Florence. Vess stated phone records indicated the two talked just a short time before Jason's body was discovered.
After her arrest, Vess said he was called to the Lawrence County Jail to speak with a cell-mate of Erica Fox. The cell-mate said Fox told her she directed her lover of where to be in the house for an ambush.
The same cell-mate told investigators, Erica Fox stated when she found her husband, "She didn't check whether he was breathing or not, because she didn't care."
District Judge Chad Coker found enough evidence in her case, to allow prosecutors to present it to an upcoming grand jury.
Ronnie Credille is scheduled for a preliminary hearing in early November.
Both remain behind bars without bond.