This is an archived article and the information in the article may be outdated. Please look at the time stamp on the story to see when it was last updated.
FLORENCE, Ala. – A 13-month long investigation into the drug distribution trade in northwest Alabama ended Friday morning with dozens of arrests.
Several residents in the Shoals got an early wake-up call. The Lauderdale County Drug Task Force and The North Alabama FBI Safe Streets Task Force hit the pavement at 6 a.m. They were targeting 67-individuals who are accused of distributing major drugs in operation "Press On".
"During this investigation, we've purchased numerous prescription controlled substances, ICE, methamphetamine, crack-cocaine, and specifically heroin," stated Lauderdale County Drug Task Force Director Tim Glover.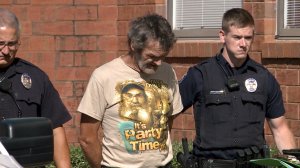 Glover said these are not the people who were simply in possession of drugs, but they're the one's responsible for selling them.
"With this many people you have loose affiliations and you have close affiliations," described Glover. "We think if you take the group out, you have a better influence on the availability of the drugs and that has been our strategy for the last month or two."
Thadeus Hamer was picked up on distribution charges on Friday in Sheffield. This isn't his first early morning visit by drug agents. While being booked he offered his own insight on the round-up.
"Y'all are doing a magnificent job. Because I think this needs to be happening, 19, I think this needs to be happening because there are so much drugs and killings going on out here in America," stated Hamer.
More than 250 buys were made from the 67-individuals with arrest warrants. Agents hope this will be a major hit to the drug trade.
Drug task force agents, police officers, and sheriff's deputies from across northwest Alabama were involved in operation "Press On" Friday morning. All arrestees were booked into the Lauderdale County Detention Center.