This is an archived article and the information in the article may be outdated. Please look at the time stamp on the story to see when it was last updated.
FLORENCE, Ala. – A boutique hotel filed a suit against their Court Street neighbor and city leaders. The hotel owners say late night music from FloBama will be detrimental to their business, and police do not enforce city ordinances.
The original complaint by the Stricklin Hotel was filed against FloBama and the city of Florence on July 20th.  The first guest who stayed in the hotel was given a refund because of the loud music coming from venue next door, according to the court filing,
FloBama has been in operation since 2010 as a restaurant and music venue. Going into the project, the developers of the hotel say they made every effort to work with their neighbor to dampen the sound, but those efforts haven't worked. The hotel is asking for a compromise, such as turning the live music down or stopping it after 11pm on weekends. Florence's noise ordinance states it is unlawful for sound to be plainly audible 50-feet away.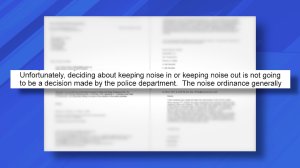 Email threads between Florence Police Chief Ron Tyler and the developers were also used as evidence in the civil complaint. Chief Tyler explained to the hotel owners, FloBama has received six complaints about noise since January 2010 and each time no formal action was taken. Tyler went on to say the decision "…about keeping noise in or out is not going to be a decision made by the police department."
In the amended complaint filed this week by the Stricklin Hotel, they ask the Lauderdale County Circuit Court to force the city to enforce their own noise ordinance. A temporary order requested by the Hotel for FloBama to cease and desist playing music up until 2-am was verbally denied.
Attorneys representing the city of Florence have filed a court motion to dismiss them from the lawsuit. They say this is a matter between the neighbors and not them. A preliminary hearing for Judge Ben Graves to hear the complaints was scheduled for Wednesday afternoon, but had to be continued.