This is an archived article and the information in the article may be outdated. Please look at the time stamp on the story to see when it was last updated.
FLORENCE, Ala. – Excitement is building across northwest Alabama when it comes to healthcare.  In just a few months, a new $250-million hospital will open its doors to patients.
The landscape of east Florence has been forever changed. A community which was once struggling is now bustling with growth. It's all because of the new North Alabama Medical Center. Two years ago, they started clearing the site.
"We're coming in ahead of where we said we would; which is an unusual thing if you know anything about construction. So, our staff are excited and are organized and ready to move in," said Martin Rash of RCCH Healthcare Partners.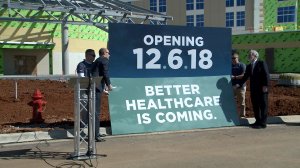 In front of a large crowd on Tuesday morning the opening date was unveiled. In nine months, patients will be moved from ECM to the new facility.
Rash said they have been ramping up services at ECM in preparation for the new hospital.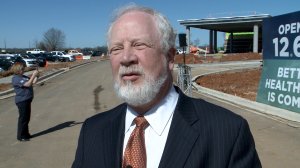 "It's really just going to accelerate when this new hospital opens up and people really… It solidifies the vision of what we are trying to accomplish here for the whole region," Rash explained.
Logistics planning has been going on for months. It's a huge task, but on December 6, they will put their plans into action.
A plan on what will happen to ECM Hospital after its vacated has not been announced at this point. City leaders in Florence say the aged facility will likely have to be torn down.