This is an archived article and the information in the article may be outdated. Please look at the time stamp on the story to see when it was last updated.
WATERLOO, Ala. - A Lauderdale County school is in prayer for a classmate who is now at Children's Hospital in Birmingham.
The nine-year-old fourth grader was struck by a car as she was leaving Waterloo School Thursday afternoon.
"You probably only think the worse when you first hear something like that," stated Gary Dan Williams, Principal of Waterloo School. "Myself, I prayed the whole way down here and I know a lot of other people were as well."
Principal Williams had already made it home when got the call Thursday afternoon.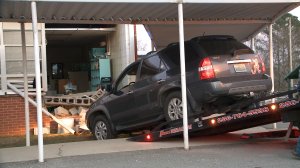 Fourth grader Georgiana Kavich had stayed late at school for a club meeting. While she stood in a breezeway getting ready to leave, she was struck by a vehicle. Witnesses said the little girl was pinned under the car.
"We love you and we miss you and we hope you get better," Jackson Adams read aloud from his card.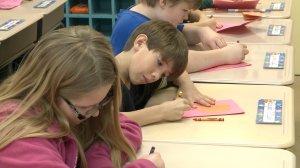 As her desk sat empty Friday morning, her fellow classmates wrote Georgie as they call her, messages of love.
"We hope you get better," read fellow student Siera Rutherford. "We care about you and we love you so much."
Principal Williams said the cards will help the little girl heal and get her back in class soon.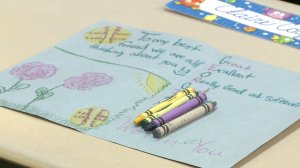 "All across school, we suggested that to them and I know that already had that on their mind during the assembly this morning. But go up and down the halls and walk into a couple of classrooms and there is a lot of that going on; a lot of people pulling for her," Williams said.
State troopers continue to investigate the incident. They say a 72-year-old female driver may have mistaken the gas pedal for the brake pedal and accelerated towards the little girl.
At last report, Georgiana Kavich was in critical but stable condition at Children's Hospital in Birmingham.
A teacher who was standing near Kavich at the time of the incident was treated and released for minor injuries at ECM Hospital Thursday night.