This is an archived article and the information in the article may be outdated. Please look at the time stamp on the story to see when it was last updated.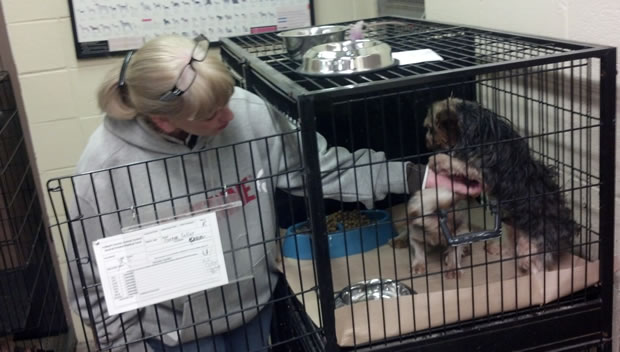 COLBERT COUNTY, Ala. (WHNT) – Police and animal control in Colbert County are investigating a possible case of animal cruelty.  The dogs, 122 Yorkies and Pomeranians, were found trapped at a puppy farm at a house near Cherokee.
The home is located at 13330 Highway 72.
Two other dogs were dead.
Colbert County Animal Control Director Judie Nichols said investigators received a tip on Tuesday that most of the dogs were outside, kept off the ground, in structures similar to rabbit hutches.  Several of the dogs had apparently never touched the ground, Nichols said.  They were exposed to the cold elements, and that was the main concern.
One investigator said conditions were so cold, some of the dogs had to be peeled away from their cage due to their fur freezing to the wire.
"They were kind of scared, but they were not in really bad shape. But, it was very cold and they were obviously cold and their water was frozen," said Nichols.
The dogs were not necessarily malnourished, Nichols said.  Nichols said the puppies were being fed, but believes the breeder became overwhelmed with the number of dogs she had.
"If there is going to be breeding there needs to be some kind of limits, some strict limits," said Nichols.  "No one needs 122 dogs, no one."
"They are just used for breeding over and over and over again," Nichols added. "And then those puppies are used for breeding a lot of times."
Animal control officials say there were other animals at the farm on Highway 72, but they appeared to be well taken care of.
Nichols said all of the dogs are currently in the care of Colbert County Animal Control, while the District Attorney determines the status of the case or possible charges, or if the dogs can be adopted out right now.
Currently, the woman who lives in the home is not charged with anything.
If you have an information about this case you are urged to call the Colbert County Sheriff's Office at (256) 383-0741 or the Shoals Area CrimeStoppers Tip Line at (256) 386-8685.
[googlemaps https://maps.google.com/maps?q=13330+U.S.+72,+Cherokee,+Colbert,+Alabama+35616&ie=UTF8&hl=en&geocode=FQP6EQId4CrD-g&split=0&hq=&hnear=13330+U.S.+72,+Cherokee,+Colbert,+Alabama+35616&t=m&ll=34.724119,-87.872772&spn=0.112871,0.188828&z=12&iwloc=A&output=embed&w=550&h=400]