This is an archived article and the information in the article may be outdated. Please look at the time stamp on the story to see when it was last updated.
COLBERT COUNTY, Ala. (WHNT) – Colbert County law enforcement charged 34-year-old Homajean Grisham III with the murder of his 32-year-old girlfriend, Jessica Nicole Broadfoot, from Florence.  They located her body on Friday afternoon in a field on Fossick Lane, west of Cherokee and near the Natchez Trace.
Colbert County Sheriff Ronnie May said at 8:41 this morning his office received a phone call from family members of the man about a possible altercation between him and his girlfriend.
According to Sheriff May a BOLO alert was sent out for the vehicle the boyfriend was possibly driving.  The vehicle was locate by law enforcement in Muscle Shoals.  Though the truck has California plates, the driver is originally from Florence and is currently living there.  The driver pulled over and was taken into custody by law enforcement and is currently being questioned.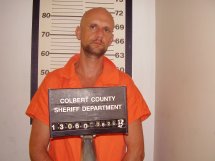 According to Sheriff May, there were indication found inside the truck that an altercation had taken place inside.
Stay tuned to whnt.com for the latest information on this story.  We will update this web story with information as it comes into the newsroom.