This is an archived article and the information in the article may be outdated. Please look at the time stamp on the story to see when it was last updated.
TUSCUMBIA, Ala. – Police are looking for the suspect involved in vandalism's early Wednesday morning.
Authorities are looking for 24-year-old Jacob Hutchens from Leighton. Investigators say he left a trail of destruction along U.S. Highway 72 West.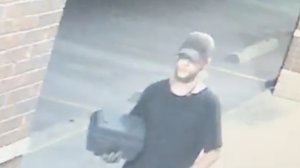 It doesn't take long for one to figure out that nothing good is happening when surveillance cameras catch someone at 2 a.m. This picture is from outside of the Colbert County Board of Education moments before a front window was busted out.
"They knocked out a window," stated Deputy Superintendent Wade Tuberville. "Then broke the window out of the vending machine and of course the snacks that were stolen."
That's right – snacks. Tuscumbia police said the vandal, who they believe is Hutchens, stole snacks from the conference room vending machine.
"I'm glad they didn't steal equipment that is needed," said Tuberville. "If they needed something, if they would just come by when we were open, we probably could have given them some vending machine snacks."
But the escapade didn't stop there. Tuscumbia police say he went on down highway 72 and into the Tuscumbia Post Office. Investigators believe Hutchens ripped the fire alarm off the wall, disabling it and the air conditioning system.
Police are still trying to figure out what triggered the sudden urge for a bag of chips.
If you know where Hutchens can be found, contact the Shoals Area Crime Stoppers tip line at 256-386-8685. Tuscumbia police would like to find him and put him behind bars.