This is an archived article and the information in the article may be outdated. Please look at the time stamp on the story to see when it was last updated.
FLORENCE, Ala. – A civil lawsuit has been resolved between two of downtown Florence's most thriving businesses.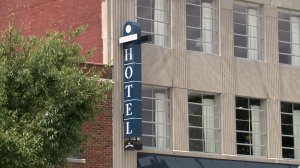 The original 21-page complaint was filed on July 20th in Lauderdale County Circuit Court. It alleged live music coming from FloBama was just too loud for guests to comfortably stay at the Stricklin Hotel next door.
Attorneys for the Stricklin Hotel stated in the complaint, their first paying guest was kept awake by excessive music and noise coming from FloBama until 2 a.m. The complaint asked the Lauderdale County courts for a temporary injunction. Instead, Circuit Judge Ben Graves ordered the two parties to sit down and talk.
"They had spent some time doing that," stated attorney Jim Stanphill, who represents FloBama. "I think personally that it was in the process of being solved before these lawsuits happened, but the other side felt the necessity to jump-in."
Although the agreement between FloBama and the Stricklin Hotel is being held confidential, Stanphill says measures have been put in place to make everyone happy.
"We kept a best management practice approach to the sound venue that actually makes it not only better for our neighbor, but better for our own customers," said Stanphill.
The Florence Police Department has also been released from the civil lawsuit. Stricklin Hotel owners claimed officers were not enforcing the city's noise ordinance. To which Chief Ron Tyler stated, this was a matter between the two private property owners, and a decision to keep noise in or out of a building is not going to be made by the police department.
As long as both parties stay within the agreement, Judge Ben Graves will not have to take any action in the courtroom.
Complaints against the city of Florence and the Florence city prosecutor were also dismissed as part of the settlement.
Since the initial court documents were filed in July there has not been any more noise ordinance issues filed against FloBama.