This is an archived article and the information in the article may be outdated. Please look at the time stamp on the story to see when it was last updated.
FLORENCE, Ala. – The city of Florence has been in a crunch with an aging fire truck fleet breaking down. Tuesday morning, the Florence City Council made the first move to help.
There's an old saying "You never know what you might find - until you get started." Unfortunately for the Florence Fire Department and their fleet of trucks, that seems to be ringing true. Over the last several weeks they've been bandaging the fleet.
"It's just so that when he started working on the fleet, we put them back in service and realized there were other little things that need to be done," explained Florence Fire Chief Jeffrey Perkins.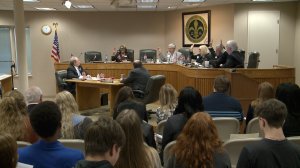 During their Tuesday morning meeting, the city council voted to purchase an $800,000 ladder truck to replace a 21-year-old tower truck. According to Chief Perkins, that's just one piece of the puzzle.
"The next step is to purchase the pumper truck. Here again, some of the monies are coming from a grant to actually allow us to purchase this truck and to able to add that to our fleet."
It will likely take up to 12-months to get the new trucks built and put in service. In the meantime, the council will spend $24-thousand to lease two fire trucks which were delivered Tuesday afternoon. Chief Perkins said this will give the department mechanic time to give each truck a thorough inspection and fix any problems.
According to Florence Fire Department leaders, the average age of a fire truck in the city is 12-years-old. The typical life expectancy of a fire truck is almost 20-years.