This is an archived article and the information in the article may be outdated. Please look at the time stamp on the story to see when it was last updated.
COLBERT COUNTY, Ala. (WHNT) - The CEO of the former National Alabama Corporation has been arrested and indicted for alleged securities fraud.
The Colbert County District Attorney, along with the Alabama Securities Commission, announced the charges moments ago against Gregory James Aziz.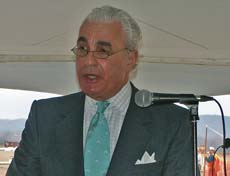 They stem from an indictment by a Colbert County grand jury charging Aziz with 10 counts of securities fraud. The indictment states between September 2006 and July 2009, Aziz perpetrated a scheme to defraud the Retirement Systems of Alabama by knowingly supplying fraudulent information and making false statements of material fact and omissions of material fact in connection with a loan and equity transaction between Aziz and the Retirement Systems.
In short, the indictment accuses Aziz and his brother, Warren Aziz, of not disclosing to RSA that they had known all along the cost to build the plant would far exceed the budget given to RSA, and it was part of their plan to keep this hidden until they had drawn and spent substantially all of the original loan proceeds.
Aziz was arrested on Tuesday, November 12 at Chicago Midway International Airport. U.S. Immigration and Customs Enforcement's Homeland Security investigators held him and turned him over to Chicago Police, who coordinated with Alabama law enforcement. Aziz will be transported to Alabama at a later time.
If convicted, he could face up to 10 years in prison.
Aziz has hired attorneys Joe Espy, Ben Espy and Bill Espy of Montgomery to represent him.  They released a brief statement Friday afternoon.
"Greg Aziz, his family and attorneys are reviewing the claims, which they just recently received. Mr. Aziz will cooperate and is hopeful that these matters can be resolved," the statement read.
National Alabama Corporation started as a spinoff of a Canadian freight rail car manufacturer, National Railcar, and came in a huge economic announcement for the Shoals in July of 2007. The initial hope was for the company to employ 1,800 workers.
The company was lured to northwest Alabama with $140 million in state and local incentives, and a $350 million loan from the Retirement Systems of Alabama, which manages the state pension fund.
Those jobs never materialized, because railcar industry took a substantial hit in the bad economy that followed over the next few years. RSA took control of National Alabama Corporation in 2010.
WHNT News 19 is working to get more information on this developing story. We'll continue to update WHNT.com