This is an archived article and the information in the article may be outdated. Please look at the time stamp on the story to see when it was last updated.
COLBERT COUNTY, Ala. – A Colbert County homeowner is sharing his story after he says he came face to face with a stranger inside his own home.
Joseph Lyles says the man was armed and trying to burglarize his home on Alabama Shores Drive.
Joseph Lyles pointed out where he says the burglar cut a screen and climbed into his home. Moments later, the two were face to face.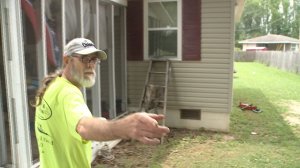 "I was just awoken and could see a person standing in my doorway. (Gasp) Who are you? I've got a gun! He says well I've got one too," Lyles recalled. "Well when I heard him say that I just started shooting."
Lyles fired eight shots.  Colbert County Sheriff Frank Williamson says three of those shots struck the suspected burglar.
Lyles said the man shot back as he was stumbling out of Lyles' bedroom and into the kitchen.
"I'm lucky to be here," stated Lyles. "He shot four times. I found one in the door casing, but I haven't seen where the other three are yet."
The Colbert County Sheriff's Office said they found the suspected burglar and a woman a couple of hours later. They were lying in a field on River Road near what is believed to be the get-away car.
Lyles, still shaken hours later, is counting his blessings.
"I imagine I am kept here for a purpose, I got things to do – sure do," said Lyles
One of things he must do first is clean up the mess left behind.
At last report, the suspected burglar was in critical condition and transported to UAB Hospital.
The sheriff's office took two other people into custody for questioning. They've decided not to release any of the people's names at this time.
Sheriff Frank Williamson says once their investigation is complete, they will turn it over to the district attorney's office for review.