This is an archived article and the information in the article may be outdated. Please look at the time stamp on the story to see when it was last updated.
TUSCUMBIA, Ala. (WHNT) - The heat didn't stop the community from coming together and remembering one of their own this weekend.
Family, friends and bikers from across the Valley honored a young man who died after being hit by a drunk driver in 2004.Joel Abernathy's family is doing everything they can to keep his name alive.
"He was a lovable child," smiled his mother, Sheila Abernathy. "Everyone in the neighborhood, community loved him."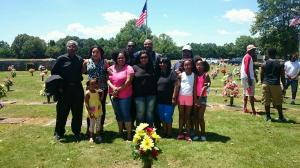 At 21 years old, Joel was killed when a drunk driver hit him while he was on a motorcycle. To this day, his team of loved ones continues to rally behind him. For the past eight years, bikers from across the Shoals and even Huntsville gather at the Colbert Memorial Gardens with Joel's family.
They have a prayer session and remember him where he's laid to rest. It's a tradition since the day  of his service in 2004.
"There were over 100 bikers and they drove in the funeral procession then after the funeral was over they led us to the cemetery," Joel's aunt, Mary Gilbert said. "We had police escort and that was really nice."
Joel's mother continues to honer her son by rewarding scholarships in his name. A part of Saturday's event was raising funds.
"So far the last eight years we've given six scholarships in memory of him," she said.
The family said the motorcycle  ride and fundraiser grow each year, a sign that her son is not forgotten. They gathered at the Willie Green Center in Tuscumbia.