This is an archived article and the information in the article may be outdated. Please look at the time stamp on the story to see when it was last updated.
HACKEBURG, Ala. (WHNT) - Laying down flooring doesn't usually build excitement, but in the town of Hackleburg, it means more than we can imagine.
Their new school is almost completely rebuilt, and it is set to open for the upcoming school year. An EF-5 tornado took down both the high school and elementary school four years ago this week.
"Of course, we're not very patient people," smiled Hackleburg High School Principal John Hardin. "We've all been wanting to get in this thing since day one."
They started the rebuilding process in February, 2013. Wednesday, crews were laying down flooring inside for the new school to house kindergarten through 12th grade.
Students and teachers spent the last four years in mobile portables.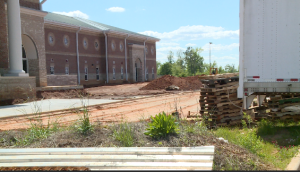 "They're in the last stages of it," Hardin explained. "We'll be in it for sure when fall starts. So, we're all excited about that. Looking back, you know, it's been worth the wait."
The schools were taken down by the April 27, 2011 tornado. For the students who had to pick up where they left off and move into portables, the view across the street gets better every day.
"They've watched it from when it was dirt here, as it's started to be built up. So, they get excited, especially now because they can see more stuff being done."
Principal Hardin said the new school is much bigger and has more space and technology.
"It's going to be a better atmosphere for students for sure."
The Panther football field was completed and ready for kickoff this school year.
The brand new school as a whole came with a price tag of about $20 million.