This is an archived article and the information in the article may be outdated. Please look at the time stamp on the story to see when it was last updated.
TUSCUMBIA, Ala. – Four federal lawsuits have been filed against the Colbert County Commission and sitting sheriff. They claim the current jail does not offer a safe environment for inmates. On Monday morning, attorneys got a first hand look at the facility.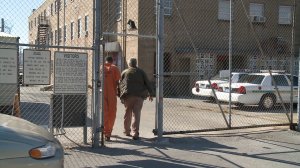 In October, the first three lawsuits were filed in federal court. The complainants were allegedly victimized while being incarcerated in the Colbert County Jail. Civil rights attorney Hank Sherrod filed another lawsuit shortly there-after on behalf of a fourth inmate. Sherrod has said all four of his clients were being held for minor offenses. The lawsuits contend the victims were being held with violent offenders and assaulted. According to Sherrod, all four men were severely injured during those attacks.
On Monday, Sherrod and his legal team toured the Colbert County Jail. We're told they spent two hours inspecting how the jail is built and how it operates. The tour was part of the discovery phase of the lawsuits which are filed.
The Colbert County Commission is exploring ways to pay for a new jail and possible sites, but to date no decisions have been made to move forward.
The four lawsuits which have been filed are seeking unspecified monetary damages for the injuries the former inmates received during the alleged attacks.