This is an archived article and the information in the article may be outdated. Please look at the time stamp on the story to see when it was last updated.
Tuscumbia Police say a divorce may have sparked Ken Risner's standoff with officers.  Late Monday afternoon, Risner took a gun to the top of the Spring Park pavilion.
Nearly 30 people had to be evacuated from the park.  Officers blocked off every entrance as Tuscumbia Police Chief, Tony Logan communicated with Risner by phone.
"He sent periodic deadlines for us when he was going to harm himself and our goal was try to walk him, talk him through those deadlines," said Chief Logan.
Police say one of those deadlines came just before 6:00 p.m. when Risner told officers, he and his wife usually eat dinner.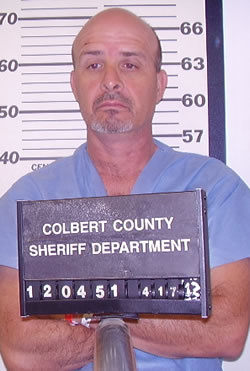 "He had taken a very threatening posture," said Chief Logan.
But just minutes later, police got a major break.
After nearly three hours, Risner came down from the second level of the pavilion and walked toward officers with the gun still in his hand.  Police say Risner dropped the gun at the railroad tracks in the park and surrendered to police.
"As long as he's not making overt threats to law enforcement or innocent civilians then we`ll negotiate with him until we can't negotiate anymore," said Chief Logan.
Every on-duty Tuscumbia police officer assisted during the standoff.  Members of the fire department and Colbert County Sheriff's deputies also responded.
"Our concern was, daylight was fading and we were going to have to change our resources and tactics because of night time," said Chief Logan.
After police arrested Risner, paramedics took him to a medical facility for an evaluation. He was not hurt during the standoff.
Risner is charged with making a terrorist threat.