This is an archived article and the information in the article may be outdated. Please look at the time stamp on the story to see when it was last updated.
TUSCUMBIA, Ala. (WHNT) – A series of smash and grab burglaries have kept law enforcement in the Shoals very busy over the last few weeks.
The latest took place in Tuscumbia, and investigators want the public to take a close look at the surveillance pictures that have been released.
Just before 2 a.m. Thursday, Tuscumbia Police said 3 subjects approached the Handi Foodmart on Old Lee Highway and threw a brick through the front door.
"It takes just a matter of minutes. It doesn't take long when this happens. We have seen it where they are in and out in a minute," said Lt. Stuart Setliff with the Tuscumbia Police Department.
In less than a minute, the smash-and-grab burglars stole a cash register with an undisclosed amount of money and some smokes.
If the store surveillance cameras can't help with identifying the subjects, investigators hope a shot of the SUV might.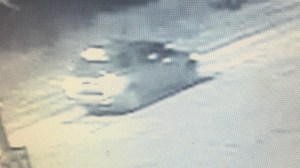 They describe the getaway vehicle as possibly a newer Ford which is silver or champagne in color.
It was seen circling the area minutes before the burglary.
"We hope one of our citizens can come in and maybe give us some information or intel on who might have broken into the store," Setliff stated.
Tuscumbia Police want to put an end to these smash-and-grab burglaries, which normally cost the store owners thousands of dollars to repair.
If you recognize any of the subjects or the vehicle please give the Shoals Area Crime Stoppers tip line at (256) 386-8685.  Your tip is anonymous and worth up to $1,000 in cash.