This is an archived article and the information in the article may be outdated. Please look at the time stamp on the story to see when it was last updated.
RUSSELLVILLE, Ala. (WHNT) - A high end lawn mower gets stolen off the lot at Dependable True Value Hardware Store in Russellville.  Police say three people helped in the heist.  Now they need your help getting these thieves behind bars.
In surveillance video, a man and woman can be seen browsing around.
Detectives say a third person is also involved.  According to investigators, that suspect stays by the vehicle the entire time, acting as a look-out.
Police say the thieves brought their own tools to cut security chains around the mowers.
According to detectives, the suspects loaded up the mower worth several thousand dollars  into a van, and drove away.
This week's Shoals Area Most Wanted comes from the Lauderdale County District Attorney's office.
Detectives say Dennis Allen, William Foster, and Christopher Roberts all owe thousands of dollars in outstanding fines.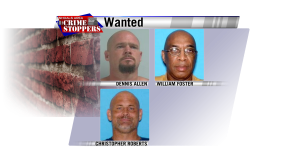 A warrant has been issued for their arrest, in order for these men to pay the debt.
If you can identify the people in the surveillance video, or know where any of this week's most wanted may be, call the Shoals Area Crime Stoppers tipline.
Leave an anonymous tip, and if the information you provide leads to an arrest, it could be worth a cash reward.  The tipline number is 256-386-8685.