This is an archived article and the information in the article may be outdated. Please look at the time stamp on the story to see when it was last updated.
Muscle Shoals Police investigators say they're still looking for clues in a January double murder. Officers responded to an emergency call at Jody's Restaurant in the early morning hours of January 24. They found 23-year-old Kayla Ann Glover and 25-year-old Gary Wayne Baskins both shot dead. Investigators say it appeared Glover tried to run from her car after being shot, while Baskins was found in the passenger's seat. But without an eyewitness coming forward, investigators say they are having a difficult time identifying a clear suspect in the shooting deaths.
MOST WANTED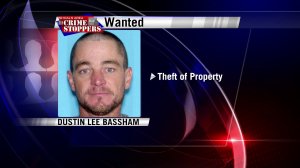 The Colbert County Sheriff's Office needs help locating Dustin Lee Bassham. They say he has a felony theft of property arrest warrant, He also has warrant with the Sheffield Police Department.
Deputies are also looking for 45-year-old Moneka Trena Bailey. She's also wanted for theft of property.
Finally on this week's most wanted list, Colbert County officials need to find 36-year-old Kelvin James Buckhannon, The Sheriff's Office is holding an arrest warrant for felony possession of marijuana. Deputies say he also has arrest warrants in Sheffield, Muscle Shoals and Florence.
If you recognize and of these people or have information that can lead to an arrest, call the Shoals Area Crime Stoppers anonymous tip line (256) 386-8685. All tips are eligible for a cash reward up to $1,000.