This is an archived article and the information in the article may be outdated. Please look at the time stamp on the story to see when it was last updated.
MUSCLE SHOALS, Ala. (WHNT) - Police are searching for a man who reached into a cash drawer while the clerk was helping another customer. The crime was caught on surveillance camera, and investigators believe the public can help identify him.
Just before 8pm on April 28th, the robbery suspect strolled into Walgreens on Woodward Avenue in Muscle Shoals. After picking an item off of a nearby rack, he headed to the checkout line.
When the clerk opened the cash drawer to give another customer her change, the man lunged across the counter and grabbed the cash inside. After getting what he likely came for, he took off out the front door.
Here are a couple of still pictures of the man. Muscle Shoals Police would really like to identify him.
The Franklin County Sheriff's Department is looking for Marquiez Donte Cothron. The Huntsville man is wanted by deputies for possession of a forged instrument.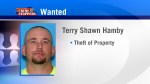 Sheriff's investigators also have an arrest warrant for 37-year-old Terry Shawn Hamby. Hamby's last known address was in Haleyville. His warrant is for theft of property.
Can you give authorities some information which can bring any of these men to justice?
Call the Shoals Area Crime Stoppers tip line now at (256)386-8685, or text your tip to 274637 (CRIMES), in the message type "tip1293" and your information.
All contact is kept confidential and worth a cash reward of up to $1,000.